Step-By-Step: Double Your Screen Space

Extend your Windows desktop by spreading it across two monitors so you can keep multiple applications open full-screen simultaneously.

Instead of struggling with tiling or overlapping windows on a single monitor, why not hook up a second monitor and extend your Windows desktop so you can run multiple applications on separate screens? This would allow you to do research on the Internet (or to check your e-mail) on one screen while typing in a word processor or using other applications on another. Or you could watch a DVD movie full-screen on one monitor while using other applications on the other. The possibilities are nearly endless.

Windows 98SE, Me, 2000, and XP all support multiple monitors. You could plug a second graphics card into your PC, but since most computers use the AGP slot for the primary graphics card, you would need to find a PCI graphics card. Those cards are no longer common, don't offer the performance of AGP cards, and require another slot used. We recommend that you instead purchase an AGP card specifically designed with dual-ports to handle multiple monitors. Such cards cost about the same as a standard graphics card, and they offer features such as direct digital outputs for flat-screen LCD monitors, the ability to hook up a television for video display, and software that lets you save your favorite desktop schemes.Though we don't cover this alternative here, if you'd rather install a second graphics card, you'll find extensive information on the subject by searching for "multiple monitors" in Windows Help. Another cool feature is that the same mouse will cross over from one monitor to the other!

You'll also need a second monitor, of course. Depending on your budget, it can be large or small, a CRT or an LCD.

1. Get the latest drivers After you purchase your multiple-monitor card, go to the maker's Web site and get the latest drivers. Manufacturers are constantly upgrading their drivers to improve performance and fix compatibility problems, so it pays to obtain the latest version. If you have a CD-R or CD-RW drive, put the drivers on a CD-R for easy access since many of the new drivers take up more then one floppy can hold.



2. Uninstall the old software To improve your chances of completing a trouble-free board swap, it's a good idea to uninstall any utilities and drivers that your current graphics card uses. First check your current card maker's Web site to see whether it contains any information on uninstalling the software. If your card maker's site doesn't have an uninstall utility available online, go to Start, Programs and see whether your PC has an uninstall entry for your graphics card software. Alternatively, check the Add/Remove programs dialog box. If nothing is evident, just forge onward. Important: If your PC's graphics circuitry is incorporated onto the motherboard instead of residing on an add-in card, you'll probably have to disable it before you can install the new graphics card. Check your PC's manual for the precise steps involved; usually you must disable the on-motherboard graphics from within your PC's BIOS setup. Procedures for entering the setup vary, but holding down <Delete> or <F2> during start-up are the most common ones.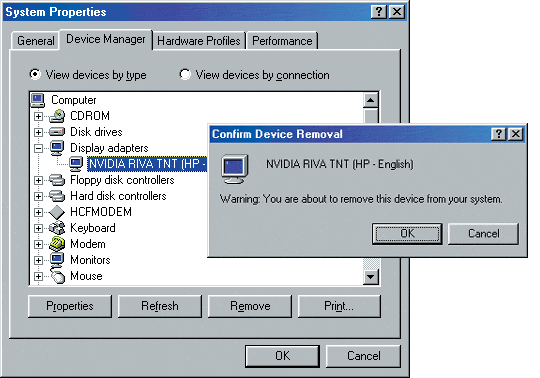 3. Swap the boards Before opening your PC, make sure you do a complete backup. Then turn off your PC and unplug it from the wall outlet. Disconnect the monitor cable. To avoid static discharge, which can damage PC components, use an antistatic wrist strap according to the manufacturer's directions when working inside your PC. Open the case, remove the screw that holds down your existing graphics card, and carefully withdraw the card. Remove your new graphics card from its packaging, carefully but firmly insert it into the slot, and secure it with the screw that you removed earlier.

<!- -endgraphic-->


4. Connect the monitors Set your second monitor up next to your original monitor. (It can be positioned either to the left or to the right of the first monitor, depending on which is more convenient.) Follow the manufacturer's directions, and make sure that you connect your primary monitor to the correct connector. Cards with digital connectors for LCD screens come with adapters for attaching standard analog monitors. Most of them also carry special cables for connecting televisions, for viewing DVD movies and other video content on your PC, or for more general use as a low- resolution secondary display.

5. Install the software Reconnect your PC's power cord and turn the system on. Windows should detect the new card and start the Found New Hardware Wizard.
Follow the on-screen directions.
After you finish installing the card, follow the manufacturer's directions to install any software that offers special features for multiple monitors. You'll usually need to restart your PC at this point.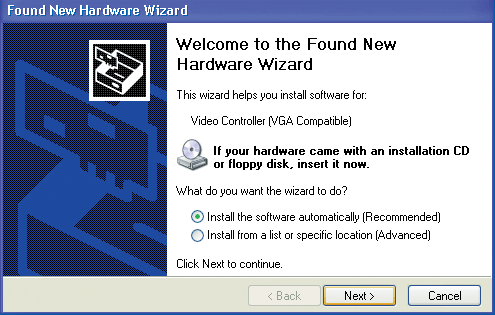 6. Adjust the setting If the software asks you whether you want to enable multiple-monitor support, make sure you say YES. Follow the directions to enter the monitor setup screen, and there set the multiple-monitor configuration, the resolutions, and the color depth. You'll need to give the software some information about how your monitors are arranged, and you may want to spend some time adjusting settings such as where dialog boxes will appear by default.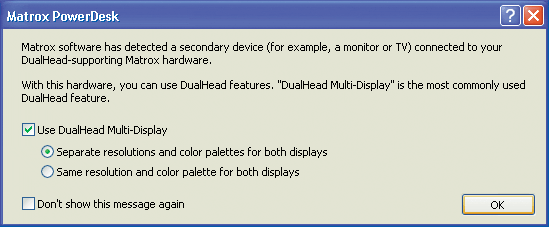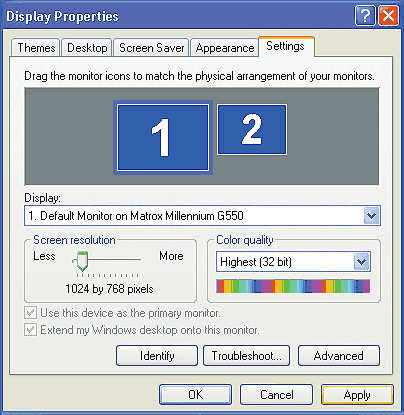 7. Enjoy the extra space Experiment with new arrangements for the various programs you use. Having multiple monitors may not change the way you use your word processor, but that second monitor can be a great place to house applications that you keep running in the background, such as e-mail clients and media players. With apps like Adobe Photoshop, you can create a larger, less cluttered workspace by moving palettes to the secondary screen.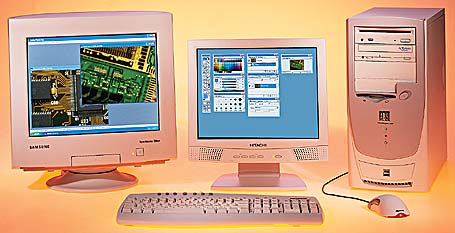 The Top Down Benefits: Extend the Windows desktop and keep multiple applications open full-screen on dual monitors. Watch full-screen video on one monitor while running applications on the other.Cost: Dual-monitor AGP card, $85-$125; second monitor, $100 and up.
Time Required: 45 to 60 minutes
Expertise: Intermediate
Vendors: ATI Technologies, Matrox, NVidia
Copyright © 2004-2007 Ted J. Mieske
All Rights Reserved.